"An innovative, engaging format, and a lively, dedicated group of writers make this workshop memorable. Stimulating on many levels. I enjoyed every action-packed minute."
— Deborah Noyes Wayshak, novelist; executive editor, Candlewick Press
"PCCWW has helped me hone my craft and make contact with esteemed editors and agents. Constructive, inspiring. This workshop is a definite 10." — Annemarie O'Brien; debut author
of Lara's Gift (Knopf) (Annemarie landed her contract with our workshop editor.)
"I'm impressed by how in-depth the masterclass critiques were. I was totally revved up by
the end of the workshop!" — Heather Tomlinson, author of The Swan Maiden,
(Henry Holt, Inc.) (Heather landed this debut contract at our workshop.)
"PCCWW combines the support and camaraderie of an educated, informed critique group
with a rare opportunity to connect with editors and agents in an intimate setting."
— Joni Sensel, author of four youth novels (Holt; Bloomsbury)
"The most valuable writing event I've ever attended. Presenters were generous and
genuine. The insights I received from each one on my manuscript was invaluable."
— Mary Cronk Farrell; author of the award-winning Clarion novel, Fire in the Hole!
"Well-organized, interactive, informative, congenial. The Pacific Coast Children's Writers
Workshop is one of the best I've attended." — Cece Meng, former winner
of the Writer's Digest contest (Children's Fiction category)
WHOLE NOVEL WORKSHOP
Envision and Edit Your Story with the Pros
FILLED! Our 2013 workshop filled in all categories: critiques on full and partial novels; teens' program. Contact us for info about the autumn 2014 workshop. Don't miss another year!
Are you a skilled writer, published or aspiring, looking for something "different" in a fiction workshop? Our intensive seminar offers editor or agent feedback on selected whole-novel manuscripts, including two in-person consults with your mentor. Or maybe you're ready for editor and agent critiques on your polished, opening chapters. Whichever stage you're at, here's how we assist goal-oriented writers like you:
WORKSHOP HIGHLIGHTS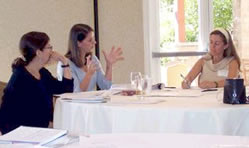 At our intimate event, you'll have continuous close contact with a supportive, top-notch editor and/or agent. Our open clinics, aka master classes, will allow you to learn from advanced colleagues, as well as from faculty.
To maximize your educational benefits, you may critique peer manuscripts well before the seminar—then, at our event, compare your assessments with those of the pros. Our collegial format provides behind-the-scenes glimpses that reveal, in depth, what agents and editors really want.
We welcome two outstanding presenters: First, Regina Griffin, Executive Editor at Egmont USA. Regina acquires a wide range of middle grade and YA novels, including historical, fantasy, paranormal, humorous, and contemporary. Her authors have included Walter Dean Myers and Todd Strasser, among others. • Our second faculty, Fiona Kenshole, is actively building her list at Transatlantic Agency. The agency specializes in children's and YA books. Fiona was formerly Publishing Director at Oxford University Press Children's Books, and an editorial director at HarperCollins. What a team! See more details on our faculty page.
Savvy teen enrollees give adults target-reader feedback within their own, concurrent workshop. The intergenerational exchanges prove mutually stimulating—and fun.
Our Novel Writer's Retreat offers solitude in quiet beachfront townhomes. Immerse yourself for up to four days: hone your craft, intermingle with seminar faculty and advanced/published peers.
Creating a marketable novel is a multi-layered challenge, requiring intuition and dedication. Join us for a working retreat or seminar—learn fiction-crafting with the masters. Pinpoint the tools you need to propel your novel from page-turner to published success!

See our flyer for a compact view of our workshop. To enroll, start here.
Opportunity

Camaraderie

Craft
"This workshop played a huge role in my success. My novel improved largely due to
faculty and peer critiques, which led to my first sale. Outstanding seminar."
— Tracy Holczer, The Secret Hum of a Daisy (G.P. Putnam's, 2014)