"I love this venue. I'd return to it just for a vacation!"
— Sheryl Scarborough, alum; award-winning screenwriter
VENUE AND LODGING
Our events take place at an expansive private beach and gated community near Santa Cruz, California, on one of the Pacific coastline's most scenic stretches. Your weekend home is literally just steps away from the ocean. No packed beaches—the loudest sound is crashing waves, accompanied by seagulls' kee-kee-kee.
Here you may feast on the sight of sea otters, dolphins, birds galore, and more. Brilliant sunsets will also nurture your serenity and creativity. After hours, enjoy nature walks, beach bonfires (s'mores!), sports courts, or dream time. Stay an extra day or two; carve out your own "paradise" retreat.
Each uniquely-furnished, upscale rental unit comes with full kitchen, sun deck, and amenities. It's intimate, homestyle comfort with extraordinary views—a writer's delight.
Your registration fee includes lodging Friday and Saturday nights, double occupancy. Other accomodations: see below.
More Fee Info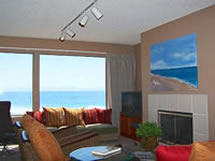 Enjoy your weekend home!
Additional fee for single-occupancy bedrooms,
if available: $85 per night
Additional fee for Sunday night, if available:
$85–$130 or more, depending on accommodations
Since our workshop units are booked en masse, we regret that we can't offer a discount for alternate lodging. However, the lodging portion of your fee is likely the same or less than you'd pay for a nice motel—which lacks the comforts, and beauty of our beachfront vacation rentals.
VISITOR INFO
The Santa Cruz-Monterey Bay has been a favorite tourist destination since the time of California's Gold Rush settlers. Santa Cruz, the "quintessential beach town" and a home to the University of California, offers many cultural and natural attractions. It is located 65 miles south of San Francisco, approximately 40 miles equidistant between San Jose and Monterey/Carmel, and 75 miles north of Big Sur. Directions and airport limo info will be given to enrollees.
Santa Cruz County (population 260,000) is nestled between redwood mountains and the ocean, with 30 miles of beaches and 20 state parks—plenty to entertain you and perhaps your family. Autumn is generally sunny, with typical daytime temperatures in the 60s to 80s; chilly (and windy on the ocean) at night.

Area Attractions
The famous, Coney-Island style, Santa Cruz Beach Boardwalk is the only seaside amusement park on the West Coast. A short walk away is the Municipal Wharf, where you can shop, dine, or peek at sea lions sunning themselves.
Visitors also enjoy: Wineries • Train ride in the redwoods • One-hour, narrated cruises (e.g., whale-watching) • Marine Museums • Mystery House • World-famous Monterey Bay Aquarium • Point Lobos Nature Reserve • Antiques • Boutiques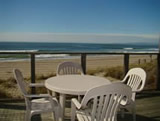 Relax on your patio.
More info: Santa Cruz County Conference and Visitors Council offers a free 75-page, full color Official Traveler's Guide for immediate postal delivery.
Phone (800) 833-3494 or visit www.santacruz.org for info about lodging, maps, and events throughout Santa Cruz County.
"Sea" you at the beach!
"A novel doesn't move zip-zip... you can't plant a grass seed and then
stick your finger in the seed and yank out a blade of grass... We have to be
patient… This is true in writing, too." — Natalie Goldberg, Wild Mind