"Julie is a rising star among our editors, with an impressive of list of titles that demonstrate her keen eye for new talent."— Melanie Cecka; Publishing Director,
Bloomsbury-USA Children's Books and Walker Books for Young Readers

Like our workshop, these faculty interviews focus on youth novels. To read all years' faculty interviews, see our Directory.
JULIE ROMEIS
Editor
Bloomsbury-USA Children's Books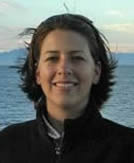 Julie Romeis is a native Texan who loves travel, tamales, and (literally) horsing around. She's also a children's book editor.
As one of the original staff at Bloomsbury-USA Children's Books since its founding in 2001, Julie Romeis has seen the company grow—from 20 books on its first list to more than 100 now—and she's played an active role in all of it. A seasoned instructor, Julie has presented at nationwide writers conferences and at Rutgers University. She also teaches in the renowned Columbia University Publishing Course. To read more of her bio and writers' testimonials, see our Faculty Page.
Below, Julie chats with The Pacific Coast Children's Writers Workshop. We are delighted to include Julie among our 2007 faculty.

I. SUBMISSIONS, PUBLISHING, MARKETING
How would you define Bloomsbury's focus?
Bloomsbury is a growing and progressive children's book publisher with an aim to produce high-quality literary and commercial trade books for children of all ages.
How many middle grade and young adult (YA) novels do you plan to publish this year? What percentage are likely to be debut authors?
Bloomsbury will publish approximately 17 middle grade and 20 YA novels in 2007. I am looking to acquire up to 10 middle grade and YA books (total), though there is always some wiggle room. Approximately 90 percent of the authors I have signed up are debuts.
How many manuscript pages do you usually read before deciding whether to continue, and/or before deciding whether the manuscript will be a good fit for your house?
About 25 pages.
What makes a submission irresistible to you? Please include your pet peeves, common mistakes, and corresponding suggestions re: story openings (first pages and/or first chapters).
The only thing that will make a submission irresistible to me is a story that is engaging and effortless to read. Cover letters on hot pink paper, submissions arriving via fedex overnight express, glowing comparisons to Harry Potter, self-generated marketing plans, and self-published books will not in any way increase the chances of a submission being acquired, and every once in a while can actually put me off a project. Be humble, simple, and straightforward in your cover letter and let your writing do the rest.
It is crucial for those first 25 pages to shine. Be sure your lead character is engaging and interesting, the main problem or obstacle of the novel is clear, and include significant action upfront to pull the reader into the story. It [also helps] to attend writers conferences and get to the interests and personalities of the editors in attendance.
Many editors give preferential treatment to conference and workshop attendees' submissions for only one month after the event. How long after an event will you consider attendees' submissions?
I welcome their manuscripts for up to one year following the workshop or conference. After that, I may not be able to guarantee a personal response, though attendees can always submit to Bloomsbury if they feel their project is a match for our list.
Some editors say they hardly read queries; others say they're an important reflection on the author and the story he/she is submitting. Where do you stand on this matter? What turns you off or intrigues you in a query?
Queries alone don't always give all the information I need to make an assessment about a project, other than clarifying the topic or genre. They come in handy if a project is conceptually driven or is non-fiction. However, I feel that the writing and the story are the most crucial elements to a book, so it is important to always include a writing sample of at least a few chapters when sending a query rather than a complete manuscript. It is up to the author if they want to send their entire manuscript or just a sample. I will accept both.
What is your usual response time to queries? How long from submission to contract, and from contract to publication?
My response time to submissions depends on the source. With submissions from conferences, I do my best to respond in three to six months. Submissions from agents are almost always at the top of the pile and I usually respond to those within a month, and sometimes within days. The time from submission to contract can vary from a couple of weeks to several months, depending on various factors. From contract to publication can take from one to two years or more depending on the amount of time needed to revise, and on the balance of other books currently slated on our schedule.
Do you generally read the synopsis before or after reading a manuscript? Do you sometimes bypass the synopsis? Besides the basics (e.g., include the story's ending), what makes a synopsis engaging to you?
I usually read a synopsis after reading sample chapters, as synopses are often difficult to follow. I do occasionally skip them. Synopses are very hard to write well and I find them worthwhile when the first few chapters don't give the reader a strong sense of where the story is going. Synopses can be especially helpful for potential series.
What are your submissions guidelines for novels?
For Bloomsbury's general submissions policy, please see our website—and be sure your work is appropriate for our list. The following guidelines are for workshop/conference attendees. General submissions guidelines for unsolicited manuscripts may vary from what I offer below.
I welcome complete manuscripts or queries with sample chapters for novels from workshop/ conference attendees. (I will accept both kinds of submissions—it depends on how much the author wants to spend on mailing costs!) I will consider these submissions for up to one year following the event. After that, I may not be able to guarantee a personal response, though writers can always submit to Bloomsbury if they feel their project is a match for our list.
With queries, please include a one- to two-page synopsis and a few chapters. Please only include recyclable materials, and send only a letter-sized stamped envelope for our response. Make sure that everything (including the SASE) is stapled, paper-clipped, or rubber-banded together. I do not accept e-mail or CD-ROM submissions.
Bloomsbury Children's Books accepts simultaneous submissions, but please be courteous and inform us if another house has made an offer on your work. Correspondence regarding status of manuscripts should be done by postal mail—no phone calls or emails. Allow six months for a reply [workshop/conference attendees: three to six months]. All Bloomsbury submissions are considered on an individual basis, although a personalized response is not always possible due to the volume of submissions we receive.
What does your house do to market its books? How can authors help?
At Bloomsbury, we have three departments to market books to readers: School and Library Marketing, Publicity, and Trade Sales Marketing. Each of these departments reaches out to different audiences—be they teachers and librarians, the media, or booksellers through attending trade conventions—mailing review copies, sending pitch letters, advertising, creating special promotions pieces, and occasionally author tours. Authors can help by listening carefully to the advice of the marketing department and asking their editor or marketing contact for advice about the best use of their time and money. School visits can be especially beneficial for picture book authors, but are more challenging to book for middle and high schools. Websites are a fantastic tool to reach readers, as well as setting up pages on websites such as Myspace or Facebook.

"It is crucial for those first 25 pages to shine. Be sure your lead character is engaging
and interesting, the main problem or obstacle of the novel is clear, and include
significant action upfront to pull the reader into the story."
— Julie Romeis; editor, Bloomsbury-USA Children's Books