"I loved being in a place where everyone knows
what it's like to write. This workshop was definitely worth
my coming from China to attend." — Isabelle, age 15
Schedule

Welcome! Here's a streamlined version of our whole 2017 weekend schedule. See more details in the full schedule for adults and teens. Annual updates in August.
Below, the pencil at left indicates an intergenerational session (adults and teens). Purple font means a

teens-only

session. Instructor bios here.

Do you find fictional characters fascinating, at least as irresistible as real ones? Have you ever dreamed of publishing your fiction—or wondered how your favorite authors got their first books published? Do you have a powerful story to tell? Come see how to make your characters and words spring off the pages!
THURSDAY
5:00 to 9:00 PM  Check-in and Welcome: Mingle with peers, chaperone, writing instructors, and workshop director. Pizza dinner and creative icebreakers in your cozy beachfront hangout. Focus session followed by instructional (and fun) three-minute video of a previous TeenSpeak workshop, with interactive activity to be shared with the entire workshop Friday night.
FRIDAY
8:15 Morning Muse, aka The Fruitful Silence Let your muse roam free as you write and dream to the sound of crashing ocean waves... self-serve, "fruitful" breakfast in your own time and space.
9:15 How Well Do You Know Your Characters? Well-drawn and artfully-shaded characters can become almost real to readers (think Harry Potter). Discover how to breathe life into your characters; dig deep into your main character's past, motivations, desires, quirks, and fears. And you won't stop with protagonists, because villains are the heroes of their own stories. So, we will explore how to create a villain (or antagonist) that your readers love to hate! (Trevor)
10:00 Break
10:15 Roundtable Critiques I: Peer Feedback  Three to five older teens meet with instructor, who is mainly just a group moderator. Share your story mostly with peers, up to 20 minutes per writer. Includes tips for constructively giving and receiving feedback.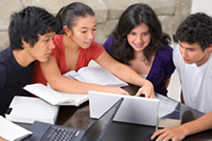 Writing is a solitary pursuit. Enjoy the fun and inspiration of interacting with others of like mind! Ending time is flexible. (Trevor)
Younger teens listen to the beginning of Roundtable Critiques
—then go to Morning Muse (Jazz). And/or meet in small group with the adult author you've critiqued.
11:00 Roundtable Critiques II: Peer Feedback  
Younger teens meet with instructor; see 10:15 above.
(Maya, with Nancy)
Concurrently, older teens have Morning Muse (Jazz), and/or meet in small group with the adult author whose whole novel you've critiqued.
11:50 Lunch
12:30 Word Wizardry Ferret out weasel words and vampire phrases that suck life from your writing. Edit a few paragraphs of adults' unpublished teen novels—then identify similar rough spots in your own manuscript and apply the same fixes. See how these smart, simple changes can empower your sentences and therefore your story. Break when desired.
Writer's Block-buster A cornucopia of creative ideas to jumpstart or develop your story. Choose improv, art, partner interviews, writing from different character or "newspaper" perspectives. Discover how you can use these tools for your future storycrafting challenges. Block writer's block—right now! (Nancy)
2:00 Break

3:00 Join adults, sit at reserved teen table. Faculty and writers of all ages are introduced. Then keynotes talks by editor and agent, followed by 4:15 snack break.
4:25 Masterclass Critique #1 (Cranes manuscript)
4:45 Spot Critiques #1, 2, 3 Editor and agent critique teens' opening pages; each author's total time is 4 to 5 minutes.
5:00 Focus Session Pace Yourself It takes skill to keep your plot clipping along while engaging readers and making them feel like they're right there in the moment with the protagonist. In this workshop we'll talk about how to fine-tune your writing so that you not only get where you're going, but make good time. (Editor)

5:45 Free time and/or beach sports: Frisbee, soccer, and/or your choice.
6:30 Dinner (lasagna)
7:30 Teen Panel Teens field adults' pre-selected questions; offer
Spot Critiques on selected adults' partial and/or full novel manuscripts.
8:15 Roast s'mores over a beach bonfire; bring musical instruments
and jam.
10:00 Good night!

SATURDAY

8:15 Morning Muse, aka The Fruitful Silence. See Friday 8:15 AM.

9:15 The Plot Thickens! What's the purpose of plot? Plot is the glue that holds the story together. It makes the awesome characters and lovingly-crafted worlds we have created matter. Plots can start simply (girl saves puppy) but turn interesting very quickly (puppy turns out to be an alien). Writing a plot can be simple, but can run wild or fall apart without planning, structure, and a little pruning. We'll explore structuring strategies to help make your plot more focused, and your writing life much more fun! (Trevor)

9:55 Break

10:05 Two Tracks I Some teens attend their selected whole-novel consult with editor or agent, and adult peers. The remaining teens continue Morning Muse. (Jazz)

10:50 Break

11:00 Two Tracks II The rest of teens attend a different whole-novel consult with editor or agent, and adult peers. The remaining teens continue Morning Muse. (Jazz)

11:50 Lunch

12:30 One-on-One Critiques with teens' faculty; approximately 20 minutes per each of three to four writers, with ending time flexible (concurrently Trevor and Kat)

1:30 Break Read your personal faculty critique, write and revise, do beach sports, create story art—e.g., a character collage, or a map of your character's world/journey, or drawing of your character's bedroom.

Avoid electronics; use the time for creativity, nature, and enjoying workshop friends! (Jazz)

4:30 Snack (or earlier)

4:45 Option #1 Rhythms and Rituals: Building Compelling Characters Rhythms and rituals for and between crucial characters are essential in building up the intensity and beauty of both the characters and the relationships between them—it's the kind of sparkly glue that turns readers into fans…. Discovering what your character's habits are and making them believable, entertaining, personality-revealing expository devices is one of the deeper, more rewarding challenges of editing (and self-editing) fiction. Trial period is 10 minutes, then you decide whether to stay or go to Option #2 below. (Agent)

5:00  Option #2 Build a New World Worldbuilding lets you create a whole new world. Choose the story's backdrop, the politics and practicalities, the inhabitants, dwellings, even the weather. Realistic fiction (not just fantasy) thrives from strong worldbuilding. So, how do you decide which details to include? And how do you weave them in? Discover how to establish the rules of your world, whether on another planet or in your own hometown. (Trevor)

5:40 Free time

6:15 Teens' pizza party Evening activities may include music jam, movie, games, and/or crafts… cake and other yummies! (Chaperone, and later Nancy)

10:00? Zzzzz!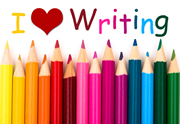 SUNDAY
8:15 Morning Muse, aka The Fruitful Silence Work on revisions.
9:15 Revise & Shine: Fine-Tune Your Fabulous Fiction! For most authors, revising a manuscript is the best part of writing. Revision is not about spelling, punctuation, and sentence structure. It's about character, nuance, setting, humor, and subtle telling details. Fun stuff! Watch revision help transform your manuscript into a polished, publishable piece. To revise means to re-visualize—finding what's most vital. Revision makes your story the best it can be. Share one passage you've polished over the weekend. (Trevor, Nancy)
11:10 Break, check-out
11:30 Spot Critiques #4, 5, 6, 7, 8
12:00 Take-home Enrollees' single sentences; editor and agent wrap up
12:20 Lunch (or lunch to-go)
1:00 THE END… or hang out for a while at the beach. Then stay in touch.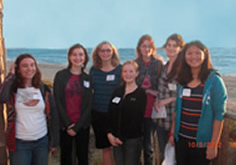 See you next year at the sea!
"Undoubtedly the most educational and awesome writer's workshop
I have ever attended! A major asset in revising my novel. I grew so close
to my writing family here. I will be back!" — Maya, age 13