Teens' Testimonials

To help you envision how you may enjoy our workshop, check out this sampling of teen feedback—
and add your comments in the coming year! Parents: Click to see parent and educator testimonials.
JACQUELINE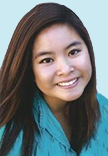 I've always loved to write, but my school classes mostly covered Rhetoric and didn't give me much opportunity to apply my creative juices. At these two concurrent workshops, I was excited to not only try my hand at fiction, but to get valuable critiques from peers as well as from a renowned editor and agent. My voice mattered because adult writers—including published authors—valued my opinion. That's meaningful to me because these authors hoped to cater to a teen audience.
In my teens' writing sessions, I learned about creating realistic characters and even got tips on my college essays—very helpful since college application season is always so stressful! Faculty agent Fiona Kenshole inspired me to pursue a creative writing career, because she loves her job—finding stories to make into movies. Although many people have told me that a career in the language fields isn't practical, it's exciting to know that there's a job market out there for something I love so much.
Update: After graduating high school in 2014, Jackie was named a Top 10 Finalist and Overall Scholastic Winner in the Distinguished Young Women of America competition. She's now a student at Stanford University. Congratulations!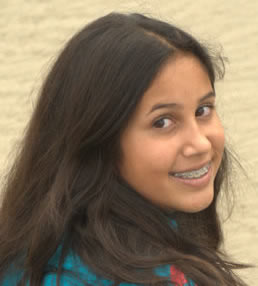 This is undoubtedly the most educational and awesome writer's workshop I have ever attended! A major asset in revising my novel. Under the encouraging mentorship of seasoned writers and experts I've gained a new perspective on my craft. I have a better understanding of plot, character traits, and the components of a moving story. I feel so inspired now to continue to pursue fiction writing, and, one day, screenplay writing.
I got so much support from my peers! Even though I'd known everyone online for only a few months (plus two days in person), I grew so close to my writing family here. I loved the cozy beach condo and teen activities. I'm excited for the next workshop!
Updates: Maya wrote the above at age 13, and did return to "the next workshop" and several more. Now she's a teen instructor-mentor for TeenSpeak Juniors, the youngest attendees. At age 16, she offered another workshop comment: "Always grateful for this inspirational experience! Beach views, book breakthroughs, and a talented teenage writer crew!"
LUNA

This workshop was the highlight of my year! I had the best time. Such a blissful weekend, simply devoted to something I adore: writing.
Although my school has an advanced English program, it does what every English program does—teach English! It doesn't really give me any area of how to expand my horizons in creative writing. But no matter anymore because now I can come to this workshop, to a peaceful place with friends where I can not only learn how to improve my general writing, but where I can find a specific emphasis on the creative writing I love so much. At this workshop I learned how to pace saggy plot, craft characters that can grow and improve, work on those little things that just make the story, like grammar and punctuation, and much, much more!
I am so grateful for this wonderful opportunity. I always look forward to it so much, and can't wait to come back every year!
Update following the next event:  "I had such a wonderful time at this workshop! Such a pleasure to be with amazing people in a wondrous landscape—the highlight of my year!"
PAIGE

TeenSpeak has always been, and continues to be, a wonderful experience. The people are awesome, the support fantastic, and the things we learn very useful. It's a great, character-building weekend. I always look forward to applying everything I learn to my post-workshop writing and editing.
Thank you, everyone who helps bring this workshop together, and everyone who makes it so special. Director's note: Thanks also to Paige (seven-time enrollee), who videotaped key sessions and preserved our experience for all time.
QUICK TAKES
I loved this workshop! I got to meet some awesome people I'll remember for a long time to come. I learned so much and had an absolutely rad time! — Angela
I learned so much at this workshop! I can't wait to come back for even more fun times, friendships, and learning! — Emily
I had so much fun here! I'm grateful for the opportunity to learn so much from professionals, and even teach  them. I loved the workshop and can't wait to come back next year! — Syon
So much opportunity, fun, and learning. Wonderful to learn from publishers, then give back [to adult writers] in another way. I can't wait to come back. — Daniel
The sessions were fun and very helpful. I now feel very relaxed and more confident in my writing. Awesome experience. — Catlynn
Because of this workshop, I have a new appreciation of reading and writing. I feel so much more confident and excited for writing. This weekend was a blast! — Megan P.
BLAKE

A super workshop full of entertaining, educational experiences. This was my first year attending. I enjoyed many aspects, and plan to return with more stories in the years to come.
For me, it's hard to form the words into a structure to make a realistic gripping story, one that will tap into readers' emotions and entertain them. Though I've read many novels, I had not written a story before this workshop. But I believed crafting and revising fiction would greatly improve my other writing—especially if I learned from such a prestigious workshop as this one.
I had also heard great reports about how fun and learning-centered this workshop is. I enjoyed the deep insight and wisdom that experienced writers shared with us. I absorbed other students' ideas and skills though reading and critiquing their manuscripts—and by talking with experienced writers about their journeys through the path of a writer.
The writing instruction throughout my life has mostly focused on essays and analyses of texts, poems, and reports. Participating in this workshop brought many wonderful new skills to my abilities, while supplying me with wisdom. I have never thought much about a plot line, so I have trouble creating ideas because I don't have a process of thinking of them. So, I came to the workshop hoping to learn a process or teach one to myself. I did discover a lot about plot and the complicated topic of character. Awesome experience; a great opportunity.
JAMES

Great experience! Feedback was so helpful—from teens, our instructor, the New York editor and agent, and the adult writers. I'll keep working on my novel with all the useful hints and tips in mind. This workshop is a fun, amazing opportunity.

JORDAN
I've loved writing since I was really young, but this workshop helped me see that writing and living are sometimes the same thing. The teens and adults I met here were so cool, and they really lived for their work. I'm super excited to come again.
This amazing workshop changed my life. It helped me see I really do love writing, and made me realize that writing is what I want to do forever (though maybe not as a full-time job). I had always thought I was alone in my passion for writing fantasy—yes, J.K. Rowling and many published authors love writing, but I didn't know anyone personally who loved writing just like me.
At the workshop, I learned that talking to characters, writing and rewriting, and agonizing over ideas are totally normal and encouraged. I learned how to help readers see my story as a movie, through sensory detail and sentence flow. I also learned that critiquing requires good communication and critical thinking on how a work functions, and I saw how one section of a story can be made to flow better with the whole piece. Plus, I learned new writing tips and conventions, and ways to keep writing my novel through writer's block.
The workshop environment was very friendly and open. We got to hang out on the beach, read, write, and talk to others about writing. It was a great place to turn sixteen.

CALEB

This workshop helped me with writing—it gave me information about clichés and critiques, and how to make a story worth reading. I also learned about how to make a character and how to make a story's first sentence pull my readers into the story. I loved giving feedback on other kids' stories, and learning how to write a book. I hope to come back again.
NICHELLE

When I arrived at this workshop, I felt an immediate change. The beach was relaxing and inspiring, with its dolphins, sea lions, and whales—a great way to escape all the stress of school!
I have never dedicated a weekend to writing because I could never find the time. This workshop gave me the opportunity not only to strengthen my current story, but also to teach me new writing strategies. Our instructor organized very educational sessions that helped me progress in my story. I received help with my character development, introducing a scene, wordcraft, and much more.
The editor, agent, and adult and teen writers were all so supportive of my work. Their feedback was great. Each teen had an amazing story to tell, and it was wonderful to learn beside them. The comments I received will definitely help improve my story, and other academic work—they even helped on my SATs. I will continue to put the writing tips into practice after the workshop. A fabulous, fun weekend! I am so grateful for this opportunity.
SAMANTHA

The workshop was absolutely great! I really appreciated it. I enjoyed working with adult enrollees on their novels, hearing the editor and agent discuss them. The Teen Panel [teens giving open critiques on adults' YA novels] is a brilliant idea—fun and interesting, a great way for teens and adult authors to interact. I especially enjoyed the time I spent with the other teen writers as a group. I also really enjoyed the beach bonfire, since it was a great time to hang out with the other teens and enjoy the beautiful night sky. I look forward to attending this workshop next year!
CARRIE

I loved the latest TeenSpeak Novel Workshop; it was so much more in-depth than last year (which I also liked). I wish this one had been longer. How would I describe it to friends? "SUPER FUN! COME!!"
I loved spending time with teen enrollees and commenting on adult manuscripts. I am grateful for the experience of seeing their manuscripts professionally critiqued.
I also learned a lot about writing in our TeenSpeak breakout sessions—very useful and fun. The TeenSpeak extracurricular activities (bonfire s'mores, making pizza, making "ice cream" out of frozen fruit, doing facials, watching movies) were a great balance. I definitely want to return next year (my third)!
Update: Carrie entered Princeton University in 2013, and still loves writing.
ISABELLE

This workshop was definitely worth my coming from China to attend. I loved being in a place where everyone knew what it's like to write. Thank you so much for this opportunity. And congratulations on the 10-year anniversary!
KYOKO

I really liked the combination of master classes and individual critiques. I learned to improve my writing, and about writing fiction in general. My favorite session was about archetypes. I'd never really thought about how characters play those roles. It was fun to do the archetypes improvs. I also liked learning about three-act story structure—now sometimes when I read, I find myself trying to find subplots and turning points. This workshop was so fun! I hope I can come again!

AUDREY

It was so much fun!!! I loved hanging out with Paige, Carrie, and Kyoko! Funny, I met them at the workshop Friday morning and it already feels like we're bffs!!! We all watched movies, made s'mores, and did facials. The critique and focus sessions were so fun! I learned a lot, and I loved getting feedback on my own work!

If you love reading and/or writing, this workshop is like a mecca for those. I had fun reading other people's stories, and hanging out with like-minded people.
Writing is good. Reading is good. S'mores are good. Beaches are good. But writing and reading while eating s'mores on a beach is just beyond good. It's amazing. And if you get do it with friends, it's just amazing squared.
SAM

This workshop taught me a lot about writing fiction, through my faculty critique and reading peers' stories. For example, I learned to foreshadow plot so that readers will have hints about what the story involves— but will still be surprised by certain important events. I also learned how to flesh out relationships between characters and add more conflict. And I learned to create stronger settings to give readers a better sense of the characters' surroundings. Overall, I improved my language usage as well as character and story development. I greatly recommend this workshop.
NORA

My instructor is a brilliant critic. The instant you sit down with her, you know she's read your story enough times that she's familiar with the characters (she even tells you which one's her favorite). She cracks jokes about your characters with the ease of someone who is really involved. My instructor is a fantastic judge of where you are, and where you need to focus more, in your piece. She doesn't talk down to you, even when offering criticism. She's not timid in her critiques; she knows how to tell you to gently, but firmly murder your darlings. She's a huge help, really nice.
ROBBIE


Workshop: A great experience. I learned so much.
Wisdom: What makes a great novel is the author's ability to connect with the reader on a topic that is relevant in the reader's life.
Hobbies: tennis, photography, creative writing/journalism.

RACHEL

Workshop: I loved the teen sessions. My faculty critiques were wonderful—instructors read with a teen's eyes and wit! I'm ready to write at a deeper level than ever before.
Wisdom: To me, a novel is always irresistible if it pushes the boundaries of mainstream fiction to the breaking point, and dares to delve deeper, push harder, and fight stronger than do any others. No one wants to read the same old plot: Boy meets girl. Boy and girl fall in love. Boy and girl break up. Boy and girl get back together and live happily ever after. But people do want to read that plot if it's shaken up, different, yet still pertains to real life.
Hobbies: dance, horses, writing.
CARRIE

Workshop: This workshop is too good to miss. I'll never forget the experience of hearing professional critiques by an editor, agent, and award-winning author. This was also my first time getting my work critiqued—for real! The townhomes were nice and the view was great, I loved the bonfire and s'mores. I also enjoyed hanging with peers who, like me, LOVE to write!

Wisdom: Each character should have a distinctive voice. Even without a name attached to the lines, readers should be able to tell who's speaking.
Hobbies: flute, track team (running), writing.
MEGAN

Workshop: This workshop stimulated me to use my brain in fun ways. I learned about the importance of creating fiction scenes, and much more. I am also grateful for this opportunity to get my memoir critiqued and expressed. Everyone was so supportive. It has truly meant a lot to me.

Wisdom: Real-life drama makes a novel irresistible.
Hobbies: I am writing my life story—hoping to publish it, then write more books. I enjoy reading and critiquing others' work, or just reading in general. I also have a passion for adventures among hills and beautiful landscapes.
MATT

Attending this workshop helped me gain confidence in my writing. Very informative; it was great meeting other authors. I would highly recommend this workshop!

MARK

My friend Matt and I are very excited to have attended this workshop. Thanks infinitely for the memories.

Join our upcoming workshop!